Transport gear safely and conveniently with the K424 XC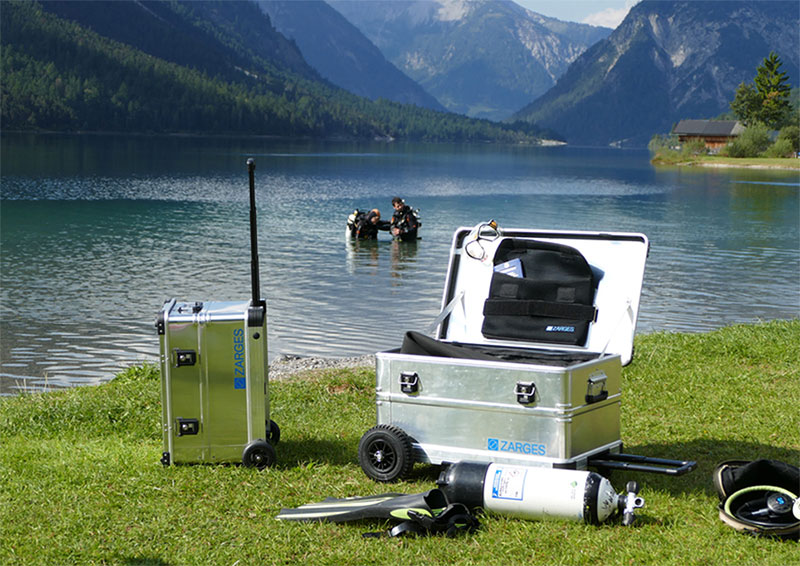 Castors on the ZARGES K 424 XC make it easier to transport your gear!
Divers know the problem all too well: The path to the lake or beach is rocky but they have to get their gear there somehow. ZARGES has been Europe's leading manufacturer of aluminium cases for decades. Now the company is offering its K 424 XC Mobile Box, a solution enabling divers to transport gear safely and conveniently. This is all possible thanks to the telescopic handle and functional castors.
Klaus H. is the Deputy Chairman of the Aquarius Schongau Diving Club. He has had one of the new Mobile Boxes from ZARGES for a while now and is impressed. "There's room in the box for all of my gear," says amateur diver, who also works as a training coach. The aluminium box makes it easy to store a wetsuit, tank and plenty of accessories safely and securely. Transport is easy, too: Thanks to the built-in telescopic handle and the integrated castors, this sturdy box available in six different sizes is easy to pull along. For rough terrain ZARGES even offers optional air-filled rubber tyres with a diameter of 220 mm. "This makes transporting gear across gravel, sand or grassy areas a breeze," says the diver, pleased with his decision.
The Mobile Box is also very practical for divers who travel. The box safely stows gear for airline travel and effectively protects it from damage. Moreover, locks ensure that the box can be closed securely. "And the trip from the plane to the diving location is a snap, too – thanks to the castors," adds the amateur diver, who also appreciates the stability of the aluminium boxes: "You can sit on it if you need to or even use the box as a table."
ZARGES boxes have been used in a number of areas for nearly 60 years: In military logistics or on expeditions, as transport packaging or for securely stowing tool and assembly boxes as well as in field service. Thanks to their specially shaped corners, the boxes can also be safely stacked with ease. The aluminium material and high-quality workmanship not only ensure low weight paired with high stability, but also offer extremely long life, even when subject to intense stress.
Find the K424 XC here
Back