Tools of the trade: Marine Biologist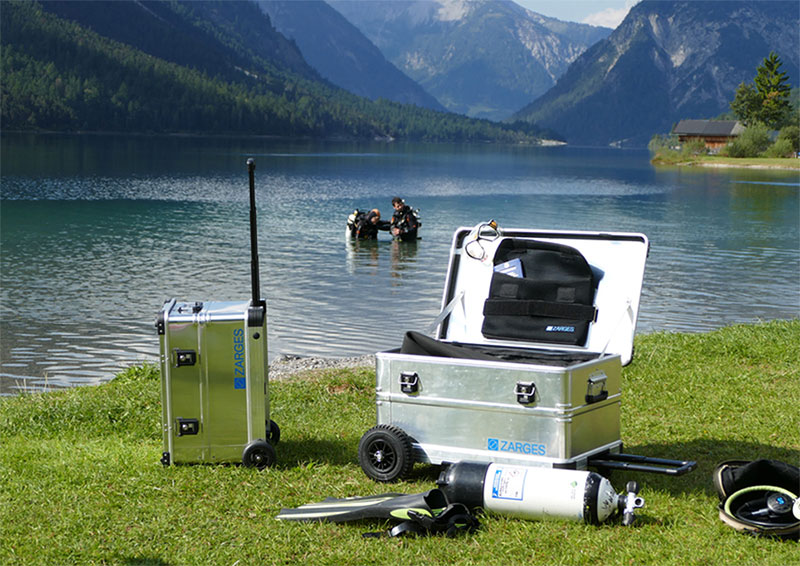 Working as a marine biologist is a fantastic, varied and rewarding career. Often the work can include both academic research work based in an office or laboratory and more practical field work observing wildlife in the world's vast and beautiful oceans. It's a job that requires passion, scientific research skills and a dedication out in the field.
When out on field work, there is usually a lot of kit to transport. This equipment can be fragile and expensive. That's why Zarges metal cases are such a popular choice for marine biologists. A Zarges marine protective case is lightweight, non-corrosive, and most importantly – splash proof (rated to IP54).
Here's a look at some of the essential kit that a marine biologist would need to transport to a dive site:
Diving gear
At a dive site, a marine biologist needs all of the usual diving gear: Scuba tanks, wetsuits, masks, regulators, fins. This is bulky, heavy gear that will sometimes be put away wet for transportation. That's why a Zarges metal case is perfect for the job. A case like the K24 Aluminium mobile case is strong, water-tight, non-rusting and will protect the gear from any bumps or scrapes. The metal protective cases also have the added advantage of wheels and a carry handle for this heavy load.
Cameras and laptops
Essential to any research site, cameras and laptops are very fragile and expensive. A Eurobox 42L protective case will protect the gear and keep it dry. Fitting the protective cases with custom foam will ensure that the gear is snugly packed and can't move around during transit.
Scientific equipment
Alongside dive gear and cameras, there is a range of scientific equipment that may be needed in the field. There's tracking equipment, radios, and lab equipment such as microscopes and test tubes. To protect this specialist gear, you'll need a protective case that is light, tough, with seals to protect from water, sand and the elements. The Zarges K470 Volume 157L is ideal for the job: it's designed especially for this type of equipment, and with pick 'n' pluck foam inserts you have a great, flexible way to protect your gear inside the case.
Back