More than 50 years of innovation
The K470 universal container is a true classic. Developed in 1950, it still known for its innovative and ergonomic design, as well as its durable build and its numerous 'spec upgrades' and off the shelf accessories. These are characteristics which made it the foundation on which most of the ZARGES Cases products are based. It has been redesigned in two stages, consistently kept abreast of the latest technological developments and the range extended to include practical accessories. It thus offers the optimum solution for safe transportation, economical storage, and reliable protection of your goods against external influences.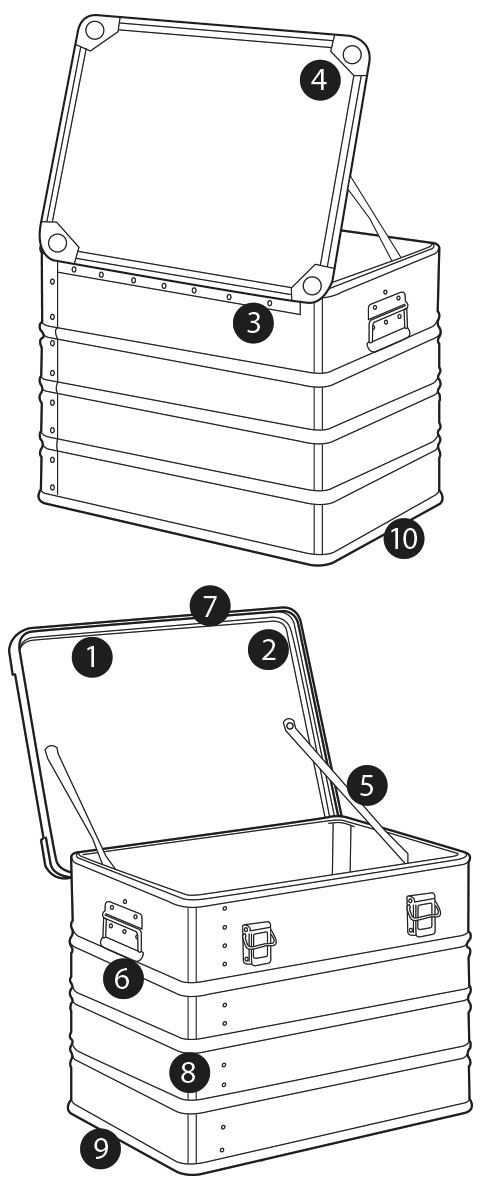 Features
1. Lid with foamed seal all round
Protected against wear, overloading and squashing
2. Sealing function
Also included in corner areas
3. Stainless steel hinge
Extra long hinge that is riveted into the lid and case body, for protection against tearing
4. Stacking corners
Made from durable cast aluminium
5. Two heavy-duty lid holding straps
Sealed at the ends to prevent fraying. Will not be torn out under heavy loads. Attached with special rivets (with extra-large heads)
6. Extra wide handle
Wider and thicker handle makes the case easier to carry even with gloves
7. All riveted joints
With full rivets
8. (Depending on size) Beading all round and corner beads
For added stability
9. Skid bars
Made from sturdy aluminium sections on cases from outside dimensions 1,200 mm x 800 mm (additional reinforcement)
10. Edge, base and lid connections
Tough, robust connection between the lid base and body profile.